There's never been a better time to straighten your teeth. With Invisalign®, our adult patients in East Kildonan, Transcona and surrounding Winnipeg communities can transform their smiles discreetly without limitations to their busy lives.
---
Straighten your smile while living life the way you want. 
Invisalign® for Adults provides you the convenience of maintaining your busy lifestyle while discreetly straightening your teeth. Removable and virtually invisible, Invisalign® for Adults is an orthodontic treatment in Winnipeg that is custom-made to fit in your life (without anyone noticing). 
The Invisalign® Advantage 
No brackets. No wires.
Invisalign® is virtually invisible – no one needs to know you're wearing them. 
Removable for your convenience. 
Invited to the biggest social of the season? Simply, remove your aligners and pop them back in when you're ready. 
Few food restrictions.
Flexibility to eat what you want, when you want. 
Treats a variety of dental concerns.
Invisalign® for Adults not only straightens teeth, but also treats a variety of other dental concerns such as: spacing, teeth crowding, overbite, underbite, crossbite, and open bite.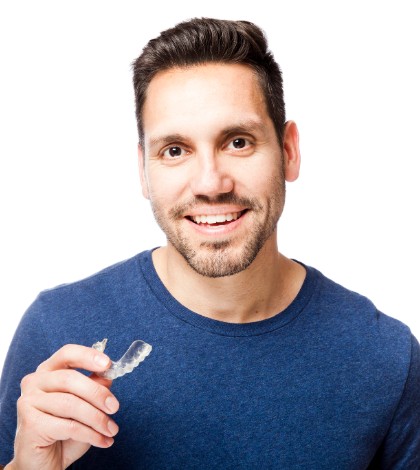 Fewer visits to the dentist. 
Follow-up appointments are less frequent, with dental visits every 4-6 weeks. 
Easy to brush and floss.
While straightening your teeth, you can keep brushing and flossing like you normally would.
---
I'm interested in transforming my smile with Invisalign® for Adults. How do I begin my treatment?
To begin your Invisalign® treatment, simply schedule an initial consultation at our office. Request Appointment