Unhappy with your smile and don't want to show your teeth? We have a solution! At Odyssey Dental Care we have the iTero 3D Digital Scanner technology that allows you to see what a new smile could look like... in real-time!
Book Your Free iTero Digital Scan... It's Quick & Easy!
Want to see what your smile could look like? We can help!
Book your Free iTero Scan today or ask for one with your next appointment.
How does an iTero Digital Scan Work?
The iTero scanner captures thousands of individual images to creates a 3D picture of your mouth... in just minutes.
We can then digitally adjust this 3D image to show you on a screen, in real time, what your smile could look.
This process is called 'Digital Smile Design'.
Once you're happy with the design for your new smile that you see on the computer screen, we then use the information we've captured to recommend the best treatment options for you – one which may include Invisalign clear aligners.
And another great benefit is the iTero scan allows us to monitor how things change over time as well!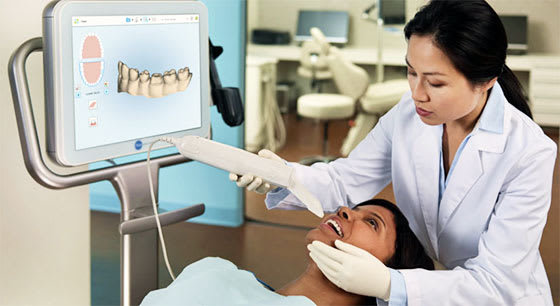 iTero Technology Makes the Process Easy For You
The general dentists at Odyssey Dental Care in Winnipeg are fully trained in the use of the iTero scanner and Digital Smile Design.
We'll guide you through a simple process, learning what's important to you and what you'd like your new smile to look like. Once we've designed your new smile, we'll provide all the information you need to make your decision.
And if you're not ready for treatment immediately, we'll keep your scan on file for when you are. No pressure.
There's no cost to your iTero scan assessment, so we invite you to book an appointment today!